Carpet Cleaning Big Island HI
Green Carpet and Upholstery Cleaning
The cleanliness of your carpet makes an impact on the health and overall appearance of your property. Our solutions are designed to help you maintain a quality first impression and protect your health and investment over the long haul. Whether you only need a few bedrooms cleaned or are seeking services for an entire office complex, Big Island Surface Care is up to the job. Our detail-oriented, highly skilled technicians use state-of-the-art professional equipment and solutions to remove contaminants, unsightly spots, and unpleasant odors from your carpeting in a timely and effective manner.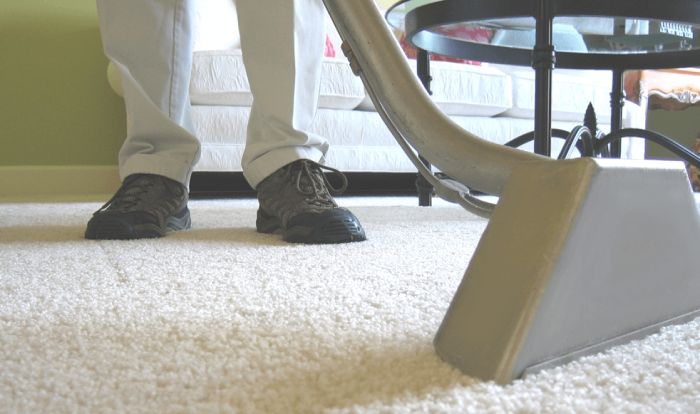 Convenient, Reliable Carpet Cleaning
Big Island Surface Care is delighted to offer high-quality carpet cleaning services.  We are committed to clear, efficient communication in order to fully satisfy or exceed your expectations. For your convenience, we offer flexible scheduling, free phone estimates, and a quick response to your call. We also offer emergency response services. Our carpet cleaning services include…
Pre-treatment: A heated solution is sprayed deep into the carpet fibers to break up soil and loosen embedded oils and residue
Truck-mount steam: Next, a high-powered extraction removes the dirt and cleaning solution.
Neutralizing rinse: Our pH balancing steam rinse leaves your carpet noticeably clean and free of dirt-attracting residues.
Protection: We recommend Fourguard protector to increase the life and stain resiliency of your carpet.
No hidden costs: We measure the area to be cleaned with a laser device and charge by the square foot. Spot treatment is also included in our rate.
Service: We move reasonably sized furniture, resetting each on foam or plastic squares for proper drying.
Environmentally friendly: Our system thoroughly rinses and extracts with Axiom Green pH neutralizing solutions. Completely biodegradable and environmentally friendly, you can be sure this method is safe for all members of your family.
Our powerful, truck-mounted two-step extraction cleaning is the best method available, recommended by America's leading carpet manufacturer. Many homeowners decide to clean their own carpets with rented or home steam cleaners, or choose a dry-chemical option to speed the dying time. These methods, however, do not have the necessary temperature or rinsing capabilities to remove soils, spots, and odors. In many cases, existing dirt is only redistributed, this time with soaps that act like an adhesive for future dirt.
We also offer deodorizing treatment to neutralize and reverse bad odors caused by pets or environment. The carpet is left soft and clean, down to the base of its fibers.
When carpets are manufactured, protectors are applied to keep them cleaner, longer. With time and regular foot traffic, this is worn down. By reapplying Fourguard Carpet Protection after our standard cleaning, your carpet fibers are not only sealed to resist stains and spots, but they respond better to regular vacuuming.
Commercial Carpet Cleaning Services
The appearance of your floors and surfaces says a lot about the way you run your business. Dirty, dingy floors have a negative, off-putting impact on employees and customers alike. Clean, well-maintained carpet can attract clients and encourage productivity and job satisfaction in your employees. We want to help you make the best impression the first time, and all the time, by providing the most thorough deep cleaning of your carpets possible. We offer comprehensive commercial carpet cleaning services to businesses of all sizes.
About Caring For Your Carpets
As a general rule, your carpets should be professionally cleaned about every six months to a year. For extremely heavy traffic areas, cleaning may be required more often. Proper professional cleaning will not leave a sticky residue behind and can be done as many times per year as needed without damaging or reducing the lifespan of your carpet. Big Island Surface Care's professional technicians are thoroughly educated and trained in safely and effectively removing dust, dirt, allergens, and other pollutants from your carpet. Our cleaning process extracts debris and grime trapped deep within carpet fibers, leaving the texture and appearance beautiful and sanitary.
What You Can Do To Prevent Premature Wear
When it comes to maintaining your carpet, one of the most critical areas of focus is vacuuming. If ground in soil is not removed on a regular basis, areas that get high traffic and use will begin to wear excessively. Weekly to daily vacuuming (depending on traffic volume) is a must. For the best results, vacuum slowly and evenly.
Entry mats that are regularly taken out and shaken can also retard wear of carpeting by helping to reduce the amount of grit and grime tracked in from outside.
The second area of focus, of course, is spot removal. You must react to 'danger' spots immediately. Red wine, red beverages, urine, blood, etc. can cause a permanent stain if not treated immediately. Unless you are familiar with the chemistry involved and understand which detergents work best with the particular spill or spot you are dealing with, use only water to do this spot cleaning. Some detergents can be great on one particular type of spot but permanently set another type. If spot treating doesn't work, please reach out to us so we can either advise you further or take care of the spot for you.
Be sure to visit our Carpet and Textiles Care page for helpful tips for cleaning spills, regular maintenance guidelines, and a free, downloadable Carpet and Interior Textiles Care Guide.
If you are on the Big Island, HI reach out to us for carpet cleaning services. Call (808) 889-0500 or use our CONTACT US to send us a message.