Exterior Stone / Hardscape Cleaning - Big Island HI
Exterior Surfaces Cleaned and Protected
Walkways, patios, pool surrounds and other outdoor surfaces are subject to wind and rain, temperature changes, pollution, grit and grime, fallen leaves and debris, muddy run-off after heavy downpours, mold and mildew, and other potentially damaging conditions. The expert technicians at Big Island Surface Care are experienced in restoring the beauty to outdoor surfaces, as well as providing solutions to protect from future damage. Count on us to make your outdoor surfaces clean, fresh, and inviting, once again.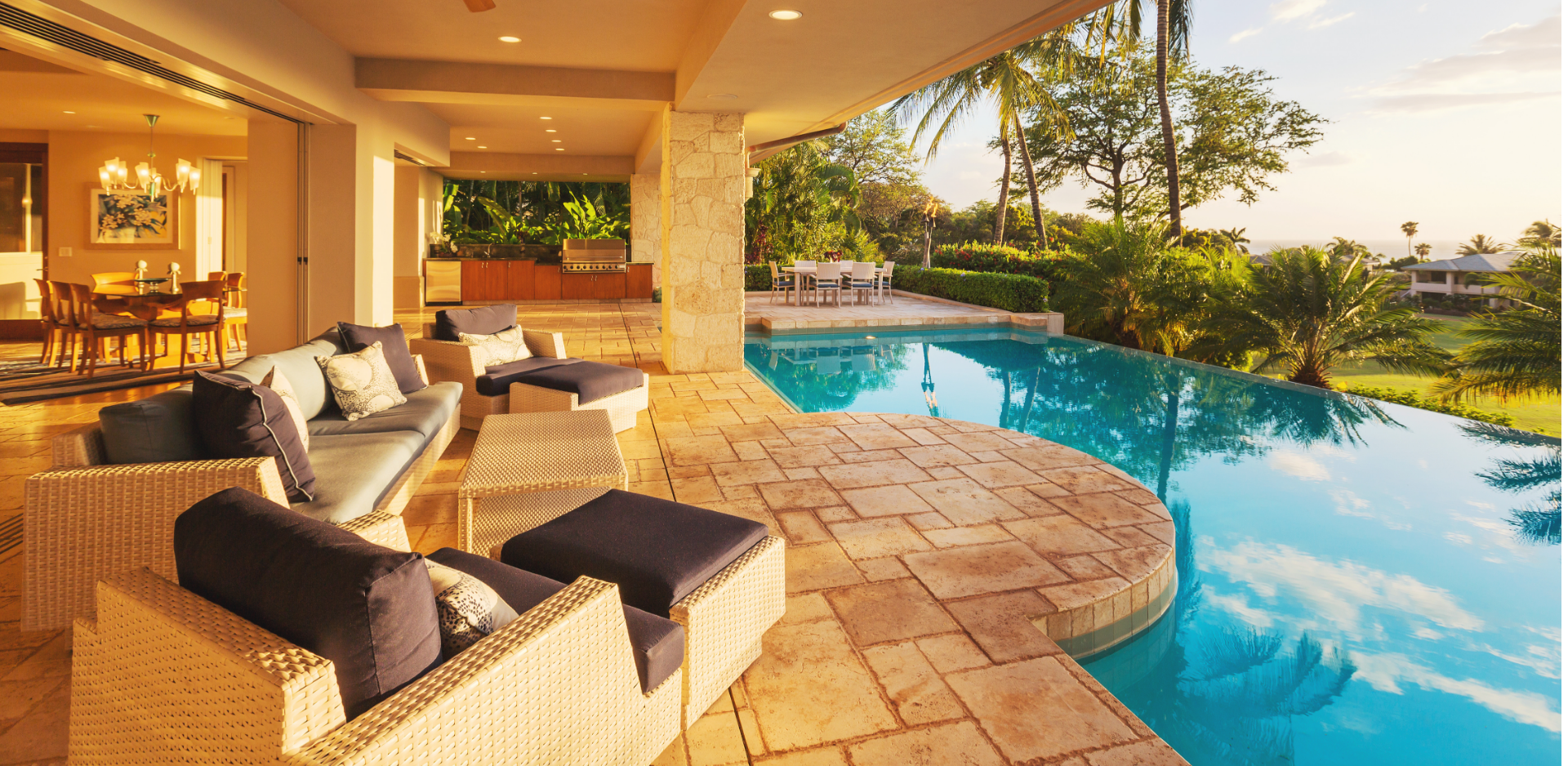 Your Exterior Surfaces Are in Good Hands
We provide a wide variety of exterior surface cleaning. Surfaces we service include sidewalks, pavers, pool decks and enclosures, driveways, patios, and more. 
As we work in pool and patio areas, on sidewalks, and on other outdoor hard surfaces, we are always very mindful about protecting your property, including landscaping, lawn ornaments, irrigation and drainage systems, lights, and more. 
From patios and pool surrounds to concrete walkways to brick retention walls to decorative rocks and pavers, your outdoor hardscapes will inevitably need professional attention from time to time. We resolve problems such as removing stains, mold and efflorescence. We can also apply color enhancing or topical sealers to achieve the finish you desire on pavers. In addition to deep cleaning services, we provide long-term solutions for moss and mold prevention and slip resistance treatments.
Pressure Washing, Power Washing or Soft Washing?
Pressure (or Power) Washing
Pressure washing, also known as power washing, cleans surfaces through high pressure water propulsion, producing instant, dramatic results. Our equipment is specially designed to adjust water temperature and pressure to achieve the maximum cleaning results appropriate for specific surfaces and soiling levels. We can remove oil spills, cobwebs and insects, dust, dirt, grime, and more. We service both residential and commercial properties.
Soft Washing
Soft washing is an alternative to traditional pressure washing. Utilizing water and professional cleaning solutions propelled at low pressure through specialty nozzles, we can safely clean your exterior surfaces, minimizing the chances of damaging your property. This low-impact cleaning method is perfect for grooves, painted surfaces, stucco, organic/inorganic staining, and more for both horizontal and vertical exterior surfaces.
We can come to you anywhere on the Big Island to restore your exterior hardscapes to clean and welcoming CONTACT US today.